A poolside picnic is much-needed refuge from the daily stressors in today's mechanical life. However, bugs and excess debris in the surroundings can make you uncomfortable and limit your enjoyment.
Usually, pool screens can last from five to twenty years. Their exact life span relies on their construction, material, and maintenance. This means that even if your pool screens are made of subpar materials, an expert like Screen Kings can ensure that they work well for a long time. Here are some factors that can affect the long-term protection of your swimming pools.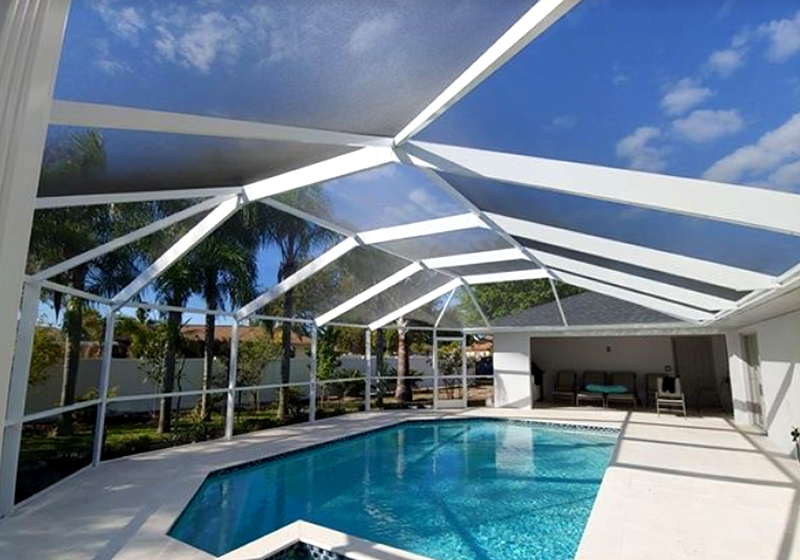 Different Materials
Depending upon pricing and preferences, you can have your pool screens built from a wide array of materials. For example, fiberglass screen is a common material for creating pool screens. If you go for phifer brand fiberglass, it can serve you well for a decade. Similarly, if you want a more durable screen, then there are more premium fiberglass options that can work well for as long as 20 years.
In case you have pets, there are specialized screens that can resist animal interaction. The right kind of material can assist you to form a better surrounding view, offer privacy, and block dangerous UV rays.
Note: Don't go for Chinese imported materials for pool screens. They are tempting due to low prices, but they often break down within a few years, which can double your overall pool restoration expenses.
Construction Quality
Merely picking the right materials is not going to ensure that your pool screens last for an extended period. It also depends a great deal on the quality and construction of craftsmanship. Due to the complexity of the job, you can't hire beginners. You need an expert who has extensive experience in pool screens.
Established service providers have lot of references to back up their abilities. However, make sure that you don't judge their skills based on recent projects. Instead, try to look into their older projects so you can evaluate the performance and durability of their pool screens and have a first-hand knowledge of how long do their projects last. Make sure to throw down all types of questions to assess their mastery over their domain.
Is Saving Money the Right Call?
Often, homeowners avoid investing additional up-front cost to save expenses; an understandable strategy. However, spending money on your pool screens is not an expense; it is an investment. Going for a cheap solution may not outright seem a bad decision. However, such pool screens deteriorate and degrade within months.
Final Thoughts
To sum it up, the durability and reliability of your pool screens is highly reliant on your choice of pool screen experts.
If you are looking around for a dependable service, then contact Screen Kings. We use high-quality materials along with latest technology to create a long-lasting, effective pool screens at affordable prices. Our Hi Solids Polyurethane paint offers a pristine finish, without any streaks or lines, and ensures that your screens last for decades.