Installing screens around a porch, lanai or pool area can offer many benefits to your home. It's a way to bring the comforts of the indoors to your outdoor space. Some of the main benefits are keeping animals and insects out, reduced glare, you've created a room where rain can't get to you, and you've added additional living space to your home that creates instant function and pleasure. But do these screens block sun, and if so, how well?
Screens on your patio can limit the amount of natural light that makes it into a home, which can reduce the effects of the sun on furniture, drapes and curtains, carpet and other items in the house. They basically filter out some of the sun's rays, including harmful UV rays. But if you're thinking about looking into a screening option for your outdoor area, you need to understand the various types of screens available. Here's a quick breakdown.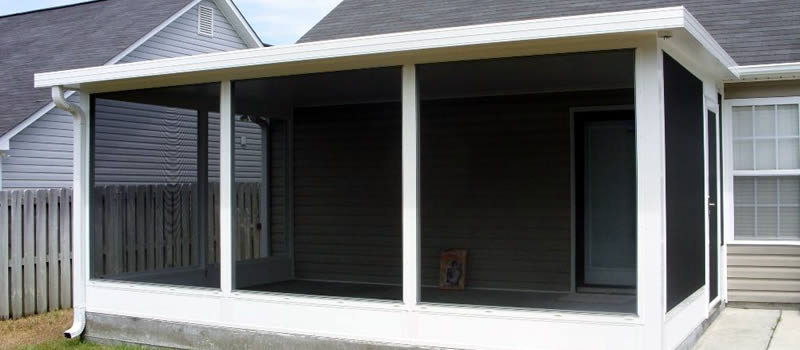 Fiberglass Screens
These are the most inexpensive and popular options for homeowners and builders, as fiberglass is considered an entry-level material. It will block some of the sun's rays, depending on the manufacturer and material provider.
Aluminum Screens
Although more expensive than the fiberglass counterparts, aluminum screens are generally more durable, able to withstand harsh weather conditions, and typically last longer. But these can be more difficult to install than fiberglass. They also block some of the sun's harmful rays.
Bronze and Other Screens
Bronze, stainless steel and copper screens are considered (from a material standpoint) to be much more-costly, but are the most durable of all screen materials. This equates to a longer-lasting product that can vastly improve the appearance of your screened area and home while blocking some of the sun's rays.
Screens For Pets
Pet screening is another option – these are generally installed to combat the potential damage that dogs and cats can do to traditional materials. But if considering these, be ready to spend much more than you anticipated for your lanai screens.
Summing It Up
In general, all lanai screens will block some of the sun's rays, although there are additional materials available that can keep porches much cooler, eliminating up to 90% of the heat radiated from the sun. These include PVC coated polyester fabric, and solar screens designed to block anywhere from 30% to 80% of harmful UV rays. If you're considering enclosing a lanai area, it's usually best to contact a professional like Screen Kings who can determine the best screen for your needs. Give us a call for a FREE consultation at 941-286-7323.